I thought I'd take advantage of the weather and go climb Ben Macdui, the second highest hill in the UK after Ben Nevis. Also, thinking about it, also the second highest hill I've ever climbed, after Mount Olympos in Greece, which is more than twice the height!
For various reasons, I reached the car park at Linn of Dee way later than planned, so after a couple of hours walking through hot, muggy Glen Lui, I decided to camp on the shoulder of Sron Riach.
Camp.. in my new tent! A Wild Country Zephyros 2. Although quick and easy to put up in the rain, I struggled to get it really taut, so it would be a nightmare in a wind. The inside is very spacious, it's a 2 person tent, but very light at 1.8kg.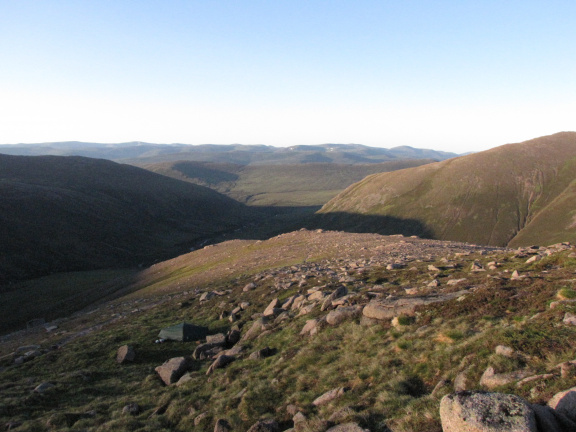 Anyway, the other interesting thing is that I saw a Black Mountain Moth! They are spread throughout Europe, but only found above 600m.
The next morning broke with a beautiful, clear dawn. I set off at 6ish to the summit of Ben Macdui, spotting a Ptarmigan on the way.
It was a long walk down, particularly the walk along Glen Derry, which was just a bit knackering. I couldn't get my rucksack to sit right and as a result developed a very sore shoulder muscle on the descent, still with about 12 miles to go. Luckily the views were stunning and more than made up for it.
The weather really was perfect, but I think my next walk won't have such an epic walk in, at least not until I'm feeling fitter and have remembered how to work my backpack.
If you're really interested, I have uploaded this walk to ViewRanger, where you can have a look and download the gpx.