I have two days in Istanbul; today I took the ferry from Eminönü, a few stops up the Golden Horn to Haskoy. It took me a little while of wandering around baking hot Eminönü before I found the ferry stop, and then I'd missed a ferry by minutes. So I walked around the back streets, mazes of tiny shops selling all sorts of specialist goods. Around where I was seemed to be hardware, electrical, weighing scales and cash register shops, but also basket-weavers and wood carvers, many of them working at the back of their shop. Love it.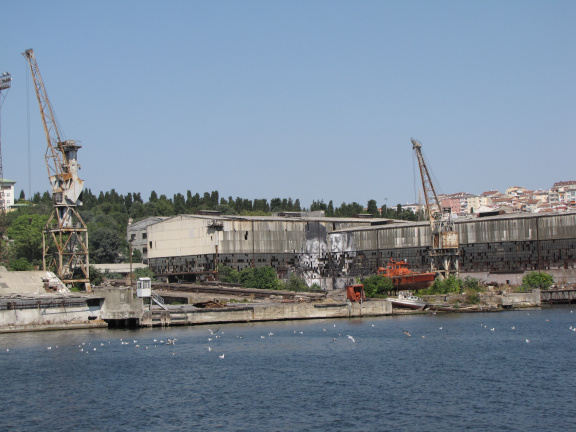 After a cup of cay and 20 minutes on the water, from the ferry stop at Hasköy it was a short walk through the park to the Rahmi M Koç Museum, a large museum of transport, industry, commerce and also dolls houses, for some reason. It was a delight if that's the sort of thing you fancy; quite nice to see massive shiny american cars up close for the first time in my life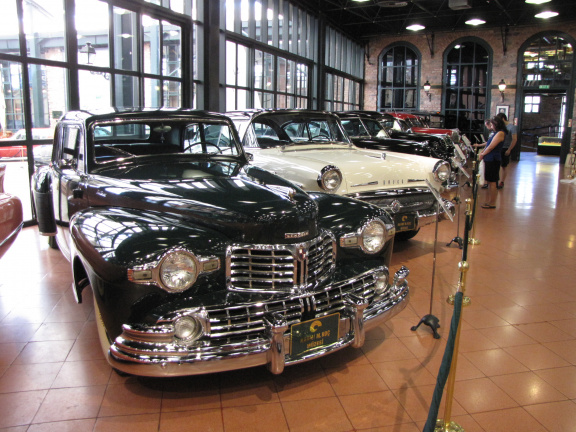 and a few of the trains and trams really interested me. First up, the train car used by the Ottoman Sultan himself:
What a handsome chap.
And this, a Fiat La Littorina railcar, a fancy fascist railcar built in Italy. On the "nose" is a small bundle of sticks – the Fasces symbol of Italian Fascism. Stunning design unlike any other train I've ever seen – shame about the fascism.
A few Istanbul Trams and their interiors
Elsewhere were exhibits of carriages, invalid carriages, bicycles, motorbikes, motorboats, steam engines and of course Rahmi M Koç himself, the founder of the museum.
Interestingly enough, a display of a shipwright's workshop

included a sailor's trunk, from a J. Pinder of North Shields, 1861!

But the pride of place are the Glasgow-built ferry M/V Fenerbahçe, and the fantastic World War 2 era submarine TCG Uluçalireis.
I enjoyed a cup of tea and a pastry on the M/V Fenerbahçe, while I paid 7TL (about £1.50) for a guided tour of the submarine, unfortunately no pictures allowed as it is still operated by the Turkish navy. The tour was entirely in Turkish, and despite the best efforts of the overly-attentive security guard who knew about 4 words of English, I didn't have a clue what was being explained; but still found the whole thing extremely fascinating.
Then a cup of coffee in the park, whilst Turkish men swatted away an absolutely enormous and terrifying looking Turkish wasp; followed by the ferry ride back, to discover to my utter joy and surprise that the hotel's fixed my air conditioning. ahhh!