It occurs that the dampness in the van isn't just condensation, but actual damp. I set about dismantling the benchseat bed to have a look.
This is the bedframe I've been sleeping on. I started on the bit to the left of the picture. It took about an hour, as – curiously – it's clearly home-made. Very well done home made, I only realised it wasn't factory fitted when I noticed all the pencil marks on the various bits of wood. It had been nailed, stapled, glued and the (thankfully) screwed into place, so when I eventually got the screws out, it all lifted out in one piece.
The warping of the wallpaper does not look good. Let's peel it back for a look..
Definitely not good.
I removed the rest of the furniture to strip it all back and get a grip on the scale of the problem
Underneath the seats I found: 6 felt-tips, the instructions for travel Monopoly, four jigsaw pieces, a leaflet for Deep Sea World and a large plastic spider that scared the shit out of me when I first noticed it.
I peeled everything back that I could..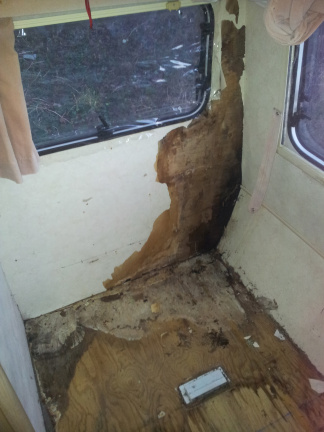 At this point, I want to say that I couldn't have had the guts to even get this far without having read a lot of people's experiences with similar problems – it looks like it is a big job or even a caravan write-off, but a quick look through the Fixed It Club shows how many people have fixed the same problem, if not worse. The forums at UKCampsite have also been great with a few other small niggles I've had over the past few months and, I am guessing, they'll be just as helpful here.
By now it was getting dark and cold and I'm hungry so I called it a night. The 'van is parked next to my friend's house, which is where I use the bathroom/kitchen/laundry anyway so there's plenty of warm, dry space for me and the cat to sleep in until this is sorted!