This morning the moth trap had a couple of aggregate species. These are two or more macromoth species which are impossible to differentiate without dissecting the genitals. As I don't had a microscope and a tiny pair of tweezers, there's no way of telling which is which so they just get recorded as "agg".
This could be a Grey Dagger or a Dark Dagger
And this could be a Common Marbled Carpet or a Dark Marbled Carpet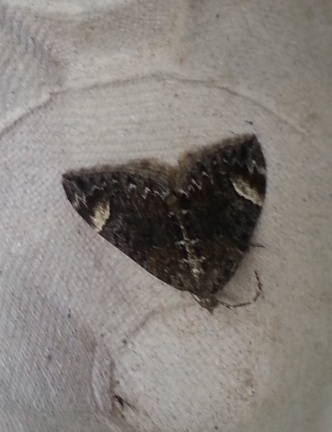 Elsewhere in the moth trap – AAA WASP AAAAAA
Mother of Pearl, which is technically a Micro Moth despite being bigger than a lot of Macro moths. It had me confused for a long time as it looks a bit like a Wave of some type, and I only have a macro moth book. Luckily the #TeamMoth experts on twitter saved the day!
This was another confusing one, he has his wings drawn up next to his body while my moth book only showed it with wings flat. A lovely Buff Arches
A couple of Slender Brindles
And these two Lesser Broad-Bordered Yellow Underwing having a chat

Full list 14/08/2015:
Lesser Broad-bordered Yellow Underwing 33
Large Yellow Underwing 13
Dark Arches 4
Common or Dark Marbled Carpet 1
Brimstone Moth 1
Slender Brindle 2
Dun-bar 3
Riband Wave 3
Sallow 1
Antler Moth 1
Scalloped Oak 2
Small Fan-footed Wave 1
Dotted Clay 1
Grey or Dark Dagger 1
Buff Arches 1
Mother of Pearl 1