Now the weather has finally turned from very hot, very humid to very humid, slightly cooler and frequent thunderstorms with accompanying torrential downpours. This means the birds are funneled low through our valley, making them both a joy to watch but also nail-biting as they are easy targets for the many hunters. It's truly bitter-sweet as one of nature's most amazing spectacle – thousands of raptors passing almost at arm's length – are then quickly followed by rounds of gunfire
Ah. So I had a day off, and took myself to Batumi, the Black Sea Port that is now being pushed as "the Las Vegas" of Georgia, as the city is stuffed with casinos and hotels, waterfront promenades and a gentrified old town. Large parks separate the old town from the sea, making it a pleasant place for a stroll under the thundering sky.
The new construction projects sees a very special mix of old, Soviet and modern, with plenty of public sculpture and encouragements to architects to build things that stand out. The result is pretty odd, but I am glad that they've kept the old town and encouraged it to be a bit hipster.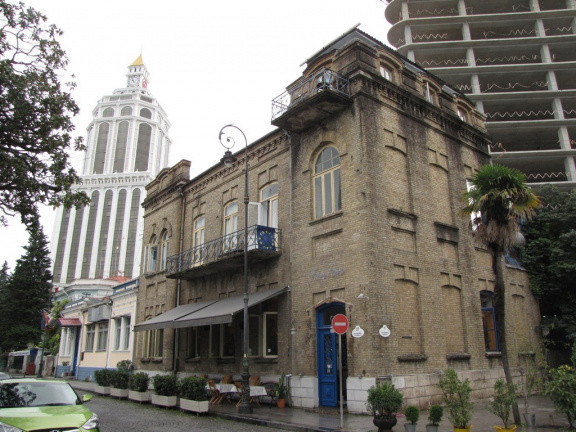 Alphabet tower, celebrating the unique Georgian Alphabet, sadly lies neglected since construction a few years ago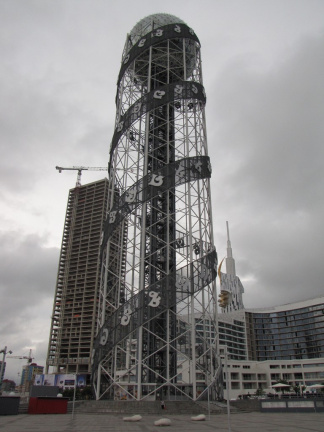 And Batumi's answer to the London Eye, the Miracle Wheel. Apparently not because it's a miracle it hasn't fallen over.
Europe Square (and this picture really does not do it justice!) with a statue of Jason and the Golden Fleece where either Lenin/Stalin once stood, emphasising that Georgia and Georgians see themselves as European.
Not a bad little city, although I did skip the zoo, spending all day watching raptors getting shot, I have no desire to look at depressed monkeys in tiny cages on my day off. To say nothing of the Dolphinarium.